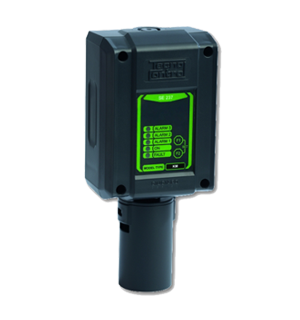 GENERAL
The device is a three-wire 4÷20mA transmitter able to detect combustible gases by employing a catalytic sensor calibrated up to 20% LEL to different gases and find their best application in centralized alarm systems for car parks, manufacturing industries, etc. The instruments comprise of a thermoplastic case in which the electronic circuit and the terminals are mounted. The enclosure has a downward facing cylindrical sensor housing with a replaceable "Cartridge Sensor". The instrument has a 4÷20mA linear output (S) with 20%LEL (Lower Explosive Limit) F.S. of detected gas. This output is connectable to a remote Gas Central Unit (figure 2) as listed in On the front panel there are two F1 & F2 keys, used for the Test and Calibration routine, protected by a code, and 3 Leds shows the working conditions.
Get a Quote
Description
TS282KG Αnalog LPG gas detector
TS282KM Νatural gas
TS282EC-S Carbono monoxide
TS282EA-H Ammonia
Filters
Consumption: 2W
IP Rating: IP 65
Sensor Type: Catalytic, Electrochemical
Need The Best Fire Safety Solutions?
Call Capital Solutions Today For Perfect Fire Safety Systems.